BLDC Motor Supplier

info@bldcmotor.org
High Speed Brushless DC Motor for Hair Drier
Nowadays, people have higher requirements to the hair drier. Water ions have the function of protecting hair, the hair dryer treats water molecules in air to ultrafine particles and improve the water content to 1000 times, so as to keep hair fresh and moist all the time, eliminate the dandruff thoroughly.
Then what motor does the hair dries adopt? ATO recommends the 5000rpm ~17000rpm high speed brushless DC motor.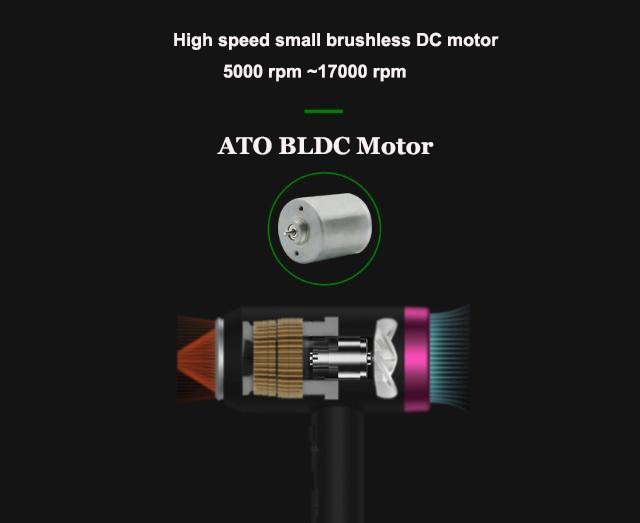 If you want to buy a high speed small BLDC motor for hair drier, please feel free to contact us.
The hair drier use electric fan and heating coil to convert electric energy into convective heat energy. The fan rotates to produce air flow which then flows to the blower through the heating element. When the air flow passes through the heating coil, heat of the coil warms up the air flow due to forced convection, and the hot air flows out from the end of the blower.
Next, we will introduce the function of high speed brushless DC motor in the water ion hair drier:
Safety protection system. To better prevent overheating and fire hazards, a temperature fuse is used in the high speed brushless DC motor. When the temperature and current is excessive, the fuse breaks and the power is cut off.
It plays as an earth leakage protective device of the high speed brushless DC motor. Connected with an earth leakage protective device to the high speed brushless DC motor, the leakage protection will play a monitoring role after being injected into the socket, it will monitor the current flowing from one outlet of the wall socket to another after passing through the circuit. If the earth leakage protective device detects any current leak, it automatically cuts off the circuit.
Insulation function. Shell of the hair drier will become very hot without a proper insulation. High speed brushless DC motor operates stably, thus the heat produced are reduced. In addition, with PP, ABS shell, the heat are well insulated.
Noise-free hair drier is the development trend of product. At present, the product generally produces 75db noise. Noise is pollution and it hurts the ears a lot. Using a brushless DC motor, the noise will be reduced to as low as 45 db. With fan noise isolation structure, the overall noise is as low as 40 db.
As the hair drier needs to treat the moisture in the air to ultrafine particles, the water ion shall select a stable motor (brushless DC motor) to eliminate spark effects.