BLDC Motor Supplier

info@bldcmotor.org
How to Brake the 750W 24V Brushless DC Motor?
In the selection of materials for ATO brushless DC motor, the organic combination of rare earth materials and advanced technology of oblique winding of rotor ensures the highest output torque and dynamic response index of industrial grade brushless DC motor. Because it is electronic commutation, there is no commutation spark, safe and environmentally friendly. Without alveolar effect, the rotor runs quietly and smoothly through dynamic balancing. It has built-in drive circuit, encoder, and can easily match different high precision planetary gear reducers to achieve greater torque output at low speed.
ATO 750W high torque brushless DC motor Specifications

Model: ATO-80WDM02430
Matched Controller Model: ATO-TH-G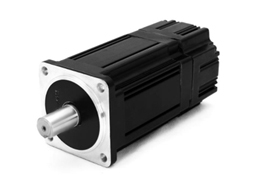 Rated Power: 750W (1hp)
Square Flange Size: 80 mm
Rated Voltage: 24V/48V/72V DC
Rated Current: 39.3 A @ 24V
Rated Power: 750 W (1 hp)
Maximum Power: 2.3 kW
Holding Torque: 1.3 Nm
Peak Torque: 7.5 Nm
Rated Speed: 3000 rpm
Maximum Speed: 3600 rpm
Electric Potential: 6.7 V/Krpm
ATO 750W high torque brushless DC motor features
Stable starting voltage, small volume, high torque, low noise, long life, high efficiency, accuracy, energy saving and environmental protection, can meet the requirements of different working conditions in the automation industry.
Working voltage and running speed can be customized according to user requirements.
Output shaft diameter, shaft length, and shaft way can be customized according to user requirements.
Motor pole logarithm and hall sensor Angle can be customized according to user requirements.
Users can choose with or without hall drive.
Optional: Deceleration structure, brake, internal drive, encoder.
The end cover can be made of aluminum alloy or stainless steel.
Bearing type: Oil bearing or rolling bearing.
Brushless DC motor braking is usually fast braking by motor itself. There are two simple methods. One is energy consumption braking, the other is short connection braking. Energy consumption braking consumes the motor's kinetic energy on the external braking resistance, and short connection braking consumes the motor's kinetic energy on the motor's stator winding. Obviously, energy consumption braking is more beneficial to reduce motor heating. However, the short brake does not need any hardware modification. Simple and convenient is its outstanding advantage, so it focuses on the short brake.
Short connection braking means that when braking, the upper arm (or lower arm) of the motor driving MOS tube can be fully turned on and the lower arm (or upper arm) can be cut off, and all three-phase stator windings of the motor can be shortened. The motor in the state of power generation is equivalent to the power supply being short-circuited. Because the resistance of the winding is relatively small, it can produce a large short-circuit current, and the kinetic energy of the motor can be released quickly, so that the motor instantaneously generates a great braking moment, which can achieve the effect of rapid braking. The higher the motor speed, the greater the short circuit current and the greater the braking force. However, it must be considered that it can not exceed the bearing capacity of the MOS transistor, so it is generally waiting for the motor speed to be reduced to a certain extent before using short brake.
More specs infomation about this motor or buy it online, please feel free to contact us.