BLDC Motor Supplier

info@bldcmotor.org
BLDC Motor for Electric Starting Motorcycle
At present, the starting motor and magneto of electric starting motorcycle are two independent motors. The starting motor is a permanent magnet DC motor with high operation speed, it connects with the engine crankshaft through the reducing mechanism and overrunning clutch. E-wheel permanent magnet rotor of magneto is directly connected with engine crankshaft, which plays an role in generating electricity and providing ignition trigger signal for engine ignition system. Using two motor makes the engine a complex structure, and the starting characteristics of motorcycle will be seriously affected when the overrunning clutch skids. In addition, the starting motor changes over through the brush and the brush is frequently worn, much maintenance are required.
DC brushless starting magneto integrates the
BLDC motor
and starting magneto and applies the electronic commutation technology to the motorcycle's starting motor, so the reducing mechanism and overrunning clutch are omitted, thus effectively simplifying the engine structure and improving the operational reliability, it will be the mainstream of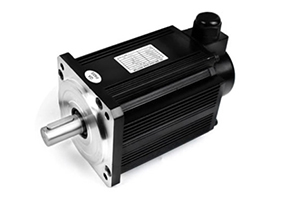 future development. The brushless DC starting magneto consists of internal stator and flywheel external permanent magnet rotor, the flywheel external permanent magnet rotor is fixed with the engine crankshaft, 6 Nd-Fe-B magnetic tiles with N-S poles working at higher temperature are evenly pasted to the inner cavity of flywheel.
Three arc Nd-Fe-B permanent magnets used as position sensors are evenly pasted on the flywheel end surface, which has a uniform depolarization of N-pole seeing from its end surface. A bump is designed on the flywheel periphery, which sweeps the iron bump on the trigger once for every one cycle of flywheel rotation. As a result, an alternating potential is induced in the trigger's inner coil by changing the flux of the trigger's permanent magnet magnetic circuit, and this potential is used as a trigger signal of engine ignition system. Stator core in the motor is riveted by 0.35ram cold rolled silicon steel sheets. After the electroplated plastics insulation treatment, it's connected to the three-phase winding and single-phase generating winding of Y-winding DC stepless II starter motor and then fixed on the motor's flange base with screws.
An arc printed circuit board with three switch-type Hall elements welded on, which are used as the position sensors, is also mounted on the base. Y-connection three-phase winding of BLDC starting magneto is connected with the three-phase half-bridge drive circuit. The position signals sent from three switch-type Hall elements on the position sensor are processed to control the turn-on and turn-off of the three-phase half-bridge drive circuit, so as to realize the electronic commutation of DC brushless starting magneto.