BLDC Motor Supplier

info@bldcmotor.org
1000W~15kW BLDC Motor for Electric Bicycle
The BLDC motor applied in the electric bicycle is generally made into disc motor and installed in the hub of the wheel. The hub is connected by spoke and rim, which directly drives wheel rotation. The stator is composed of stator core, armature winding and its lead-out line, sensing element and lead-out line, stator bracket and shaft, the stator core is usually made of many pairs of poles and many slots to meet the requirements of
high torque
and low speed.
ATO BLDC Motor Specifications for Electric Bicycle
Rated Power: 1 kW~15 kW
Rated Speed: 1000 RPM~3000 RPM
Rated Torque: 5 N.m~100 N.m
Rated Voltage: 24V DC~96V DC
Matched Motor Controller: ATO-M-BLDC-TH-G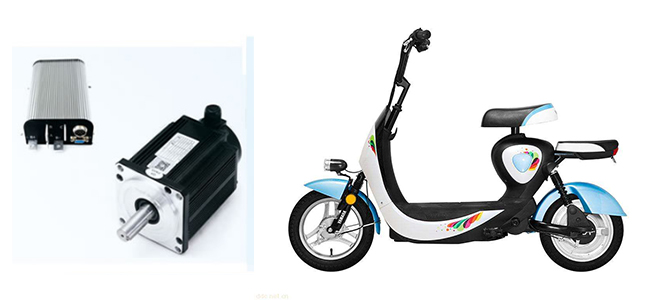 The form of stator winding is similar to that of multi-phase permanent magnet synchronous motor, it plays an important role in the process of energy conversion. The winding is generally in three-phase and adopts the Y-type connection, the three-phase winding is connected to corresponding power switch devices in electronic switching circuits respectively, namely the three-phase half-controlled driving mode. Another type of BLDC motor widely used in the electric bicycle is the external rotor permanent magnet BLDC motor. At present, most developed external rotor permanent magnet
BLDC motors in the industry
adopt the multi-pole, multi-groove and flat structure. Compared with brushed DC motor, brushless DC motor has the following advantages when applied in the electric bicycle:
Long Life and High Reliability
In the brushed DC motor, the brush and commutator wear quickly, particularly, the brush needs to be replaced after working for 1000 hours. Moreover, the reduction gear box of brushed DC motor faces many difficulties, particularly, the lubrication of transmission gears is one of major problems for brushed DC motor. So the brushed motor has many shortcomings, such as large noise, low efficiency and frequent faults. In comparison, the brushless DC motor has the advantages of low noise and small interference, no mechanical friction caused by commutation, as well as high reliability and long life. Without the brush, it also avoids the main fault source of motor, reduce the heat in electronic commutator motor, thus lengthening the service life of motor.
High Efficiency and Energy Saving
Generally, as the BLDC motor has no friction loss of mechanical commutation and gearbox loss, no loss of speed regulating circuit, its efficiency is usually higher than 85%. But considering the highest cost performance ratio in actual design and for the purpose of reducing material consumption, the efficiency is general designed to 76%. In comparison, the efficiency of brush DC motor is usually about 70% due to the consumption of gearbox and overrunning clutch. Therefore, the BLDC motor has obvious advantages in the application of electric bicycle.
If you want to buy a BLDC motor for electric bicycle,
please feel free to contact us.