BLDC Motor Supplier

info@bldcmotor.org
BLDC Motor for Electric Screw Driver
The electric screw driver is an electric tool used for tightening and loosening the screw. The electric tool has the mechanism of regulating and limiting the torque, which is usually used for wire assembling. It is one of the requisite tools of most manufacturing enterprises. For people usually using the electric screw driver, noise is the biggest trouble of them. From the perspective of the customers, what can we do to solve the noise problem? The following paragraph ATO introduces the scheme of the screw driver for the magnetic brushless DC motor.
The electric screw driver aimed at the professional workers in the market usually adopts the single-phase series excited motor and
DC motor
with the commutator, which will have magnetic interference to the TV and radio. For this purpose, the measures such as shielding, exciting winding symmetric connection can be used.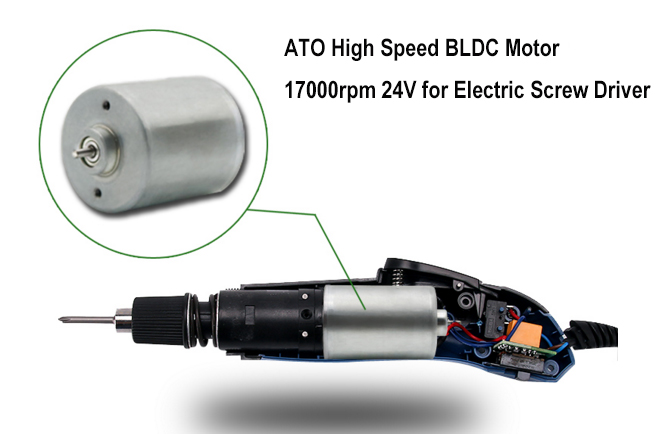 However, these measures will bring some inconveniences, for instance:
The carbon brush must be exchanged every 1~3 months on the basis of the operation frequency.
The DC motor must be cleared of the carbon powder. If it is not cleared in time, it will cause short circuit of the motor easily.
Add engine oil in time, protect the motor gear and revolving shaft, reduce abrasion and improve the service life.
In order to eliminate the troubles brought by the above problems, brushless motor electric screwdriver has been developed. Its strengths include long service life, no noise and portable performance. Then, how to select the permanent magnetic brushless DC motor?
Make the screwdriver lighter. The minitype ATO BLDC motor with 24V 15000rpm/min can be used to satisfy the requirement of high revolving speed.
In selecting the material of permanent magnetic brushless DC motor, it is required to analyze the basic performance of the permanent magnetic material, including the magnetic performance and physical performance.
The heat stability assessment of the permanent magnetic brushless DC motor ensures the unchanging performance of the permanent magnetic motor, as well as its long and reliable operation.
As to the selection of the groove amount of the permanent magnetic brushless DC motor, when the number of the components is fixed, more grooves should be selected, so as to reduce the component amount of each groove, thus lowering the reactance electromotive force of the commutation components in the groove. This design adopts the dew drop groove.