BLDC Motor Supplier

info@bldcmotor.org
1 kW 48V Brushless DC Motor with Brake Device
Brake device, also known as brake apparatus or brake holding device, is commonly used in many motors. The brake device can be used to stop the motor quickly when the power is off and hold the object, so it's an indispensable component whether for emergencies after blackouts in production or for equipment requiring quick and precise stationary positioning.
So can a BLDC motors be equipped with a brake? The answer is of course. Actually, the
structure of BLDC motor
is similar to that of many motors, which is composed of stator and rotor, it only replaces physical carbon brush with digital signal control. The principle of brake device is to clamp the stator with the lining and then stop the stator, thus realizing braking. BLDC motor is no exception. However, as the BLDC motor has a small body size, its brake devices are generally installed outside the motor. Some motors with larger body sizes, such as the three-phase asynchronous motor, install the brake device inside the motor, so it can't be distinguished clearly whether it's installed with a brake device.
Apart from the self-contained brakes, the ATO BLDC motors can also customize and install the brake device selected by the customer according to their requirements. The axle diameter, installation aperture, braking mode and braking principle of each brake are different, the motor needs to be changed to a certain extent according to the brake device. Manufacturers without strong technology or software can't do these, or can't achieve a good result. So please choose ATO motor when installing a brake, particularly a customized brake. Following figure is the case figure of
ATO 1000W BLDC motor
with customer's customized brake installed.
1 kW BLDC Motor Specifications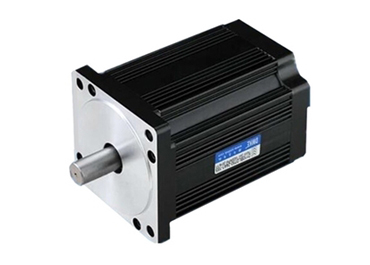 Model: ATO-D110BLD1000-48
Square Flange Size: 110 mm
Rated Voltage: 48V DC
Rated Current: 26.04 A
Rated Power: 1000W
Holding Torque: 3.18 Nm
Peak Torque: 9.55 Nm
Rated Speed: 3000 rpm
No-load Speed: 4200 rpm
No-load Current: < 6A
Insulation Rank: F
Protection Rank: IP 65
Matched Controller:
BLD-50
1 kW BLDC Motor
Dimension